Sakya Tenphel Ling (Sakya Teaching Centre) is situated on the eastern coast of the Republic of Singapore. Its architectural design is modeled after a Tibetan Monastery. The entire building can be divided into three levels.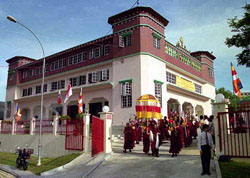 << Sakya Tenphel Ling, Pasir Ris, Singapore
On the ground level is the main main prayer hall which houses a large Sakyamuni Buddha image. On both side of this image there is a Manjushri shrine and a Tara shrine respectively. Tiles with images of Medicine Buddha covered the higher walls. Tara puja and Chenrezig Meditation are held here weekly.

On the second level, there is a library and classrooms dedicated to the studies of Buddha Dharma. The library is open to public on Sunday. A small group of librarian work patiently in field of Dharma archiving and publication, you may volunteer your free time to help.

The third level houses the monks' quarters and retreat room. This area is usually out of bound to visitors as our Venerables also practice their meditation here and disturbance to their spiritual practices are discouraged.

Since 2003, a roof has been added so that special rituals can be conducted here without worrying about the elements.
The Sakya Tradition
The Sakya school is one of four major schools of Tibetan Buddhism, the others being the Nyingma, Kagyu, and Gelug. It is one of the Red Hat sects along with the Nyingma and Kagyu.

The name Sakya (literally, Pale Earth) derives from the unique grey landscape of Ponpori Hills in southern Tibet near Shigatse, where Sakya Monastery, the first monastery of this tradition, and the seat of the Sakya School was built by Khon Konchog Gyalpo (1034-1102) in 1073.

The Sakya tradition developed during the second period of translation of Buddhist scripture from Sanskrit into Tibetan in the late eleventh century. It was founded by Drogmi, a famous scholar and translator who had studied at the Vikramashila University in India for some years, rejected the old tantras and followed the teachings of Atisha. Konchog Gyalpo, who had become dissatisfied with the lax discipline of the Nyingmapa teachers, became Drogmi's disciple.

The tradition was founded by the "Five Venerable Supreme Masters" starting with the grandson of Khonchog Gyalpo, Kunga Nyingpo, who became known as Sachen, or "Great Sakyapa". (Source: Wikipedia)