Established in the year 1898, this century-old Monastery is the oldest in Singapore. Due to its rich historical and architectural value, Shuang Lin Monastery was gazetted as a national monument in 1980.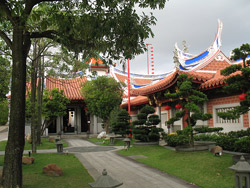 << History of the Lian Shan Shuang Lin Monastery
When the affluent trader Low Kim Pong was in his sixty, he saw the dream of a golden light over the sea and it was rising from the west. He thought it to be a sign of omen and the next day he went over to the coast. In the evening, there he met a strange Hokkien family coming by boat. 

The family was returning to their home in Fujian after undertaking a pilgrimage to Sri Lanka. The families were devout Buddhists and Low was so gripped by their devotion that he persuaded them to reside in Singapore and preach the faith and even set-up a temple for them. Xian Hui, the patriarch of that family became the first abbot of Lian Shan Shuang Lin Temple.

The area of the temple decreased to 20,000Sq. meters when the Singapore Improvement Trust acquired portions of the land. Today among all the residential flats, the temple still towers as a landmark building. On 17th October, 1980 the Lian Shan Shuang Lin Temple acquired the status of a national monument, representing the cultural and social roots of Singapore's Chinese immigrants. 

The Lian Shan Shuang Lin Temple despite being granted the status of a national monument was neglected. The temple was in terrible shape in the 1990s parts of the temple area was declared unsafe. It received a facelift from 1994-2002. Eighty carpenters, artisans and sculptors were drafted in to restore the earlier Chinese glory of the temple.
Architectural style of the Lian Shan Shuang Lin Temple
The Lian Shan Shuang Lin Monastery is built in imitation of the Xichang temple in the Fujian province but it possesses a distinctively Singaporean architectural style. The labourers who constructed the temple belonged to Fujian's different counties. Elements of Quanzhou, Zhangzhou and Fuzou styles can be found in the temple. The temple has a seven-storied pagoda with golden tops, a replica of Fujian's 800-year old Shanfeng Temple.
What to see
Stroll through the two 9.1m tall Feature Gates into a picturesque setting. As you enter the splendidly decorated Main Entrance, be prepared to be enchanted by the magnificence of the three main halls: Hall of Celestial Kings, Mahavira Hall and Dharma Hall. No tour will be complete without a visit to the majestic Dragon Light Pagoda. This seven-storey is constructed entirely of granite and reaches a breathtaking height of 29m above ground.