Poh Ern Shih, also known as the Temple of Thanksgiving, is located on a small hilltop at Chwee Chian Road, off Pasir Panjang Road in Singapore. It was built as a remembrance of the ultimate sacrifice of the Allied and Japanese soldiers as well as the innocent villagers who perished during the Battle of Pasir Panjang during World War II. Its first abbot, Venerable Sumangalo, an American Theravadin monk, was the first Westerner to be the abbot of a Buddhist temple in Singapore.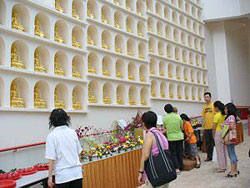 << History
Poh Ern Shih was establised as a modest single storey temple by philanthropist Lee Choon Seng in 1954 and is one of the few Chinese Mahayana temples in Singapore that is dedicated to the Ksitigarbha Bodhisattva. Based on the noble concept of liberating the spirits of the people who were sacrificed during the Japanese invasion in WWII, the Temple was constructed at the site of the bloodshed on Chwee Chian Hill. Being one of the early Buddhist pioneers in his time, Lee was also involved in the founding of the Buddhist Publications Circulation Centre in 1933 and the Singapore Buddhist Lodge.

Venerable Sumangalo (1903 - 1963) was born as Robert Stuart Clifton in Birmingham, Alabama in the United States in 1903. After receiving his Doctorate in Literature, he lectured on Buddhism in the United States before moving to Asia to further his study of Buddhism. In 1957, he joined the Theravada Order in Laos and received the monastic name Sumangalo meaning "very auspicious". He then left for Malaya and later visited Singapore on a Dharma tour in late 1959 with another American Buddhist monk, Venerable Susiddhi. Through his efforts, a number of Youth Circles and Sunday schools were set up locally.

In January 1959, he was offered the honorary abbotship of Poh Ern Shih and became the first Westerner to be the abbot of a Buddhist temple in Singapore. While in Singapore, he assisted Pitt Chin Hui in her translation of the 'Ksitigarbha Bodhisattva Sutra' from Chinese to English. He return to Malaya and spend his later years at Penang Buddhist Association where most of his Dharma lectures were held. His lectures were later compiled in English and Chinese and distribute freely to visitors to this day. Due to ill health, Venerable Sumangalo died on 6 February 1963 and was cremated in Penang.
What to see
To meet its expansion needs, Poh Ern Shih demolished its old premises and started rebuilding in 2003 with its office wing completed in April 2007 under its Phase 1 project. Designed by Lee Coo (who is also the eminent architect behind the majestic Venerable Hong Choon Memorial Hall of the Kong Meng San Phor Kark See Temple), Poh Ern Shih is a magnum opus of classical features combined with modern technology. 

From the outside, Poh Ern Shih appears to be a traditionally palatial temple, grand and sprawling, with yellow crystalline globes illuminating its white washed parapets and stairways. However, despite its magnificent exterior, the true treasure of the Temple in actuality lies inconspicuously within the compounds itself.
An Eco-friendly temple
In terms of history and eco-friendly design, Poh Ern Shih is a noteworthy benchmark of environmental conservation and social consciousness in Singapore.

With abundant sunlight's potential in Singapore, the Temple attempts to tap into this vast resource by positioning three different kinds of solar energy cells on its rooftop. They are the poly-crystalline silicon solar array, mono-crystalline silicon solar array and amorphous silicon solar array. Poh Ern Shih thus heats its water using the sun's rays that fall on its solar panels and also converts solar energy into electricity for powering the Temple's night lighting, thereby reducing its dependency on electricity derived from exhaustible fuel reserves. With its breezy location, wind generators have been raised to convert wind activity into electricity too.

Another weather component being thoroughly recycled by Poh Ern Shih is rain. The rain water collected from surface run-offs and rain gutters not only maintains the temple grounds, it also generates electricity for charging the batteries of in-house motorized wheelchairs. This additional source of electricity is achieved when water from the highest floor of the Temple is allowed to rush past hydro-generators which then produce electricity from the kinetic movement of the fluids. Furthermore, a purification system is being erected so that the collected rain water can be filtered to be potable.