Also called the "Timphu Dzong", it was initially built in the 17th century and was rebuilt in early 1960s by the third King Jigme Dorji Wangchuk. Tashichho Dzong is the main secretariat building which houses the throne room of His majesty and a summer residence of the central monk body. It is open to visitor during Thimpu festival and when the monk body moves to their winter home in Punakha.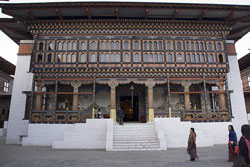 History
In 1216 the lama Gyalwa Lhanampa built Doom (Blue Stone) Dzong on the hill above Thimphu Where Dechen Phodrang now stands. A few years later Lama Phajo Drugom Shigpo, who brought the Drukpa Kagyu line age to Bhutan, took over Dohon Dzong. In 1641 the Shabdrung (The one who unified the country) acquired the Dzong from the descendants of lama Phajo and renamed it as Trashi Chhoe Dzong.

He then arranged to house both monks and civil officials in the same Dzong. It is presently the seat of the national government and the Central Monastic Body, including the summer residence of the Je Khenpo (Chief Abbot of Bhutan).
What to see
During the summer months, the monk body led by His Holiness, the Je Khenpo, makes its home in the Dzong.The National Library holds a vast collection of ancient Buddhist manuscripts and contains arguably the best collection of religious and historical literature in the Himalayas.
Location
Timphu, capital of Bhutan.