Located in the east-central part of the country this small town is surrounded by heavenly apple groves (the juice is fantastic). Bumthang is one of the most beautiful places in Bhutan. It has very beautiful undulating landscapes with many fruit trees and temples. Bumthang is in the area where Buddhism first took hold in Bhutan.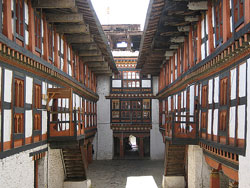 << Jakar Dzong in Bumthang
What to see
The town has several temples including Kuje Lhakhang (dating from the 8th century), Jampey Lhakhang (associated with Guru Rimpoche who brought Tantric Buddhism to Bhutan and Tibet), Tamshing Lhakang and Jakar Dzong (which alone makes Bumthang worth a one-night stop). There are two interesting festivals - Tamshing Phala and Thangbi Mani - in late September.
Kurjey Lhakang
Kurjey Lhakang, also known as Kurjey Monastery, is located in the beautiful Bumthang valley in the Bumthang district of Bhutan. This is the final resting place of the remains of the first three kings of Bhutan. As well, a large tree behind one of the temple buildings is believed to be a terma (Buddhism) that was left there by Padmasambhava.
Jambay Lhakhang
Jambay Lhakhang is one of the two most ancient temples of Bhutan, built in the 7th century by Songtsen Gampo, the king of Tibet.
Tamshing Lhakang
Tamshing Lhakang in the Bumthang District of central Bhutan is the most important Nyingmapa temple in Bhutan. The temple and monastery are remarkable for their direct connection to the Bhutanese saint Pema Lingpa. It is now a seat of Lama Sungtrul Rinpoche the current speech incarnation of Pema Lingpa. Tamshing consists of a deteriorating temple and cramped monks quarters. The monastery supports a body of over 95 monks.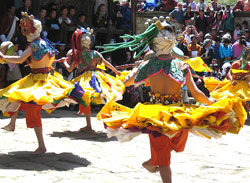 << Festival Dance
Jakar Dzong
Constructed in 1549 by the great grandfather of the first Shabdrung, the dzong was initially built as a monastery. The site for the Jakar Dzong was chosen when a white bird rose into the air and and settled on a cliff overlooking the valley. This was looked upon as being a good omen, and the Jakar Dzong, "the Dzong of the White Bird," was constructed. It was upgraded in 1646, after the Shabdrung had firmly established his power. Jakar Dzong is now used as the administrative center for Bumthang valley, and also houses the regional monk body.