Long Son Pagoda is found at the foot of Mount Trai Thuy, located at 22, 23/10 Street, Nha Trang City, Khanhhoa Province, Vietnam.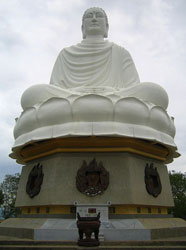 << The White Buddha, Long Son Pagoda
History
The pagoda was first built on Mount Trai Thuy in 1886 and named Dang Long Pagoda. In 1900, the pagoda was damaged in a storm and was rebuilt down the mountain in its present location. The Khanhhoa Buddhist Studies Foundation originated here in 1936. The pagoda underwent further restorations in 1940, 1971, and 1975.

The current Long Son Pagoda is dedicated to the Buddhist monks who died protesting against the US supported Diem regime.
What to see
Entrance to Long Son Pagoda is found on the North side of Nha Trang. There is a huge white statue of Sakyamuni Buddha sitting on a lotus pedestal, which erected in 1964-1965, 24m high not including its pedestal being 14m high.

The large Buddha's base used to be a library until it was closed after the Tet Offensive when it was discovered that the Viet Cong used the library to plan attacks on the city. The pagoda is at the base of the stairs that lead up to the giant Buddha and is very ornate with a h4 Chinese influence.
About Nha Trang
The 7 km white sand beach of Nha Trang is often called Vietnam's Mediterranean Area. Nha Trang is sunny all year round, with an average temperature of 23°C due to northern winds. The rainfall is less than anywhere else in the country and the area is not threatened by storms since it is protected by the Truong Son Mountains and Ca Pass. 

From Ca Pass, one can see Ro Paddle, Ke Ga Cape, Hon Do, and Tran Nam Paddle.Hon Tre Island is 25 km2 and belongs to a group of islands located southwest of Nha Trang. It takes two hours to reach Hon Tre Island by rowboat and only 20 minutes by ferry.Nha Trang benefits from topographical advantages of the sea, islands, mountains, and deltas. West of Nha Trang, there are endless mountain ranges where a wide variety of animals and birds live.Trang has many specialties. Every year, bird's nest soup, or Yen nest soup, is cooked. Nha Trang has the most Yen birds in all of Vietnam. The magnificent coral seabed in Nha Trang makes it ideal for scubadiving and snorkeling.