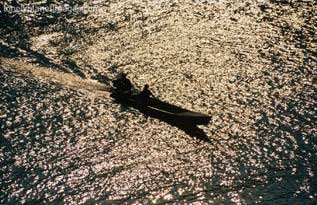 Books such as Jack Kerouac's Dharma Bums did little to disabuse me of the notion that Buddhism was a faith seized upon by experimental westerners too lazy to risk hellfire but not brave enough to live in a lonely universe.

The "wheel of life" is central to the teachings of Siddhartha Gautama, and I have to confess that my own wheel experienced a little puncture when I visited the south-east Asian countries of Laos and Cambodia. There's no risk of conversion, but Buddhism has now become a living culture to me, the quiet, smoking, saffron-robed Laotian monks sitting beside the Mekong its unwitting ambassadors.

It's impossible to understand Laos and Cambodia without taking into account the Mekong River, which stretches for a large part of its 2,600-mile course from Tibet through the two countries, forming the border between Laos and Thailand along the way. It provides fish for the people and water for crops; it's both a transport route and a smuggling highway. The statues of naga - water dragons - that adorn the region's Buddhist temples would surely like to abandon their agog expressions, close their mouths and slip into its fertile depths.

The former Laotian royal city and UNESCO World Heritage site of Luang Prabang - the Golden Buddha Capital - sits at a junction of the Mekong and its tributary, the Khan river. To say that Luang Prabang is dominated by its scores of temples and shrines would be incorrect, for domination implies threat and that isn't the way the place makes itself known to you. Rather, it gently accepts you and you it, as a respectful wander around these living sites of faith gives some insight into the local form of Buddhism.

From the gold and red beauty of the main temple of Wat Xieng Thong to the simplest of roadside shrines, Buddhism flows through the town as surely as does the Mekong. The shaven-headed monks going about their business, many of them youths undertaking a period in saffron as a way of gaining an education, only add to that feeling of gentleness. The fact that many of them were smoking only takes them further away from my wholefoods-and-yoga perception of western Buddhists. I'm not claiming any deep insight, but in Laos Buddhism isn't a lifestyle option - it's the way things are.

For me, gentleness was the theme of Laos, which makes it all the more striking to consider that it's the most bombed country on earth. During the Vietnam war, up to two million tons of bombs fell on it. Most were dropped by the US in its efforts to stop Vietcong reinforcement along the Ho Chi Minh trail through Cambodia into South Vietnam. Today, more than 600,000 tons remain unexploded.

The skeleton of an anti-aircraft gun atop the hill of Mount Phousi in the centre of Luang Prabang is a reminder of these times, and it's only a step away from the temple of Wat Chom Si, built in 1804. The Americans did not destroy any temples - 19th-century Chinese raiders did that on occasion, and the Laotians rebuilt them. Maybe gentleness is the best way when caught up in such tides - though it isn't the response that would come naturally to me.

Luang Prabang isn't all temples; there is plenty of French colonial architecture. We stayed in one such building, Maison Souvannaphoum, now a hotel, the home of Prince Souvannaphouma until the Communists came in 1975. Modest in scale, it was well appointed and had friendly staff. As I sat on my balcony in the heat of the night, it was impossible not to get a sense of those erstwhile French administrators, sent out to try to run an enigmatic land. I like to hope I'd have just joined the monks.

To say a different scale of faith is evident in Cambodia is to understate the matter. To visit the site of Angkor Wat is to marvel - at its sheer size, the effort and expense involved in building it, the detail and huge ambition behind it. The pockmarks from Khmer Rouge bullets on one of the stone portals merely set in relief the malign and petty nature of that murderous movement's bizarre aims.

Angkor Wat, originally Hindu, latterly Buddhist, was built between the eighth and 13th centuries and its structures range from single towers made of bricks to vast stone temple complexes. In contrast to Luang Prabang, total domination of the landscape was clearly the aim here. The carvings on its walls speak of ancient wars, long-forgotten ceremonies, myths and marriages. Antonio da Magdalena, a Portuguese friar who visited in 1586, said that Angkor Wat "is of such extraordinary construction that it is not possible to describe it with a pen, particularly since it is like no other building in the world. It has towers and decoration and all the refinements which the human genius can conceive of." In Buddhist fashion, I defer to him and lay still my keyboard.

More tranquil and romantic is the ruined 12th-century temple of Ta Prohm. If nearby Angkor Wat's ancient voice still speaks clear, that of Ta Prohm is the whisper of a ghost, the sound deadened by the vines and huge trees growing out of, and around it, their roots holding together the stones of its construction. Visit early in the morning, before anyone else is there, and just absorb: you will exchange looks with your companions, not many words.

In both Laos and Cambodia I'd recommend engaging a guide. Ours were superb, offering information and answering questions, as well as knowing when to step back and let us work it out for ourselves. They enriched the whole experience, and they made us laugh. Oh, and helped us take on a touch of Buddhism. You don't have to take it home with you - but perhaps you will.

FACT FILE LAOS AND CAMBODIA

How to get there

Kuoni Travel offers seven nights in the Far East: one night at the Banyan Tree Bangkok, three at the Maison Souvannaphoum in Laos and three at Hotel De La Paix in Cambodia. The package includes flights from Heathrow. Prices start at £1,349pp based on two sharing. Tel: 01306 747008; www.kuoni.co.uk
Where to stay

Maison Souvannaphoum, Luang Prabang, Laos; www.coloursofangasan.com

Hotel de la Paix, Siem Reap, Cambodia; www.asiatraveltips.com and there's more

Wat Xieng Thong (Golden City Temple), Thanon Phothisarat, Luang Prabang, is open daily from 8am to dusk.

Ta Prohm can be visited at any time, but take a torch and compass. A passport photo is needed for a pass giving access to the Angkor temples.

Visas can be bought on arrival. For Laos, £17; for Cambodia, £12.

US dollars are widely accepted in Laos and Cambodia.