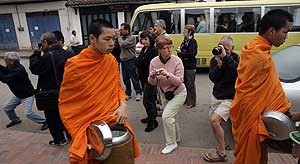 << Western and Asian tourists jockey for position to photograph Buddhist monks in Luang Prabang, Laos, on February 19. (David Longstreath/The Associated Press)
"Here they come! Here they come!" cries a tour guide over his loudspeaker. "Hurry! Hurry!"
The monks appear, a column of bright orange robes as far as the eye can see, walking quickly and silently with their begging bowls, and the tourists cluster around them with their cameras and reach out from rows of little stools to hand them food.
Luang Prabang, a place of mists and temples in the mountains of central Laos, was until recently one of the last pristine remnants of traditional culture in a region that is rapidly leaving its past behind.
Today it displays the paradox of preservation, saved from modern development by packaging itself for tourists but in the process losing much of its character, authenticity and cultural significance.
Like some similar sites around the world, this 700-year-old town is being transformed into a replica of itself, its dwellings into guest houses, restaurants, souvenir shops and massage parlors, and its rituals into shows for tourists.
"Now we see the safari," said Nithakhong Somsanith, an artist and embroiderer who works to preserve traditional arts. "They come in buses. They look at the monks the same as a monkey, a buffalo. It is theater."
The Buddhist heart of Luang Prabang - the tranquility that attracts visitors from abroad - is being defiled, he said. "Now the monks have no space to meditate, no space for quiet."
Luang Prabang was named a World Heritage Site by Unesco in 1995, and its strict guidelines on renovation and new construction have helped preserve the small streets, small structures and relatively light traffic of a past era. No tall buildings mar the cityscape.
"The problem is that they took care of the hardware but not the software, the culture," said Gilles Vautrin, a restaurant owner from France who has lived here for nearly a decade.
"The city is being gentrified," he said. "It will be a museum city. It will be a hotel city. Maybe the tourists will like it, but it won't be the same Luang Prabang."
The morning scene of monks seeking alms is spectacular, a seemingly unending procession that includes the occupants of the town's 34 temples.
But as they walk down the main street, Sisavangvong Road, they must thread their way through crowds of tourists and the vendors selling food for donations who call out their prices, "Dollar! Dollar!"
Looking straight ahead, the monks pass Pizza Luang Prabang, Pack Luck Liquor, Walkman Village, German Ice Cream, Cafe des Arts Restaurant and Bakery, Khmu Spa and Massage and Tatmor Restaurant n' Bar.
The scene may be jarring, said Rik Ponne, a program specialist with Unesco in Bangkok, but "it is not a complete disaster."
"This is a very interesting moment in time in Luang Prabang when we have probably reached the carrying capacity," he said. "It is a question of whether the Lao government is willing to make policy decisions about maybe limiting tourism on the site or limiting its impact."
This would be a difficult choice in one of the poorest countries in Asia, where tourism is a major source of foreign exchange.
But if steps are not taken to control the changes, Unesco warned in 1994, Luang Prabang could become "another tourist town where soft-drink billboards dominate the landscape, where the sound of tour buses drowns out the soft temple prayers, and where the town's residents are reduced to the roles of bit-players in a cultural theme park."
Already the core of the city is losing its population as development drives up prices and local residents move away, leasing their homes as guest houses and restaurants.
"You cannot find people living in houses like family," said Vilath Inthasen, 25, a native of Luang Prabang who is a manager at Couleur Cafe. "Now we start to live outside the city."
Vilath spent eight years as a monk here and like many others he used his time in the temple to prepare himself for what has become the town's only industry.
"If you are a monk you can learn English and go into tourism," he said. "Most of the people who work in restaurants are former monks."
While the changes bring jobs and money, he said, they are disrupting the way of life he grew up with.
"I am afraid our culture will start to disappear," he said over the sound of a buzz saw next door. "Now bars can stay open until midnight. Normally we don't do this in Laos."
This disappearance of culture is critical because Luang Prabang is not simply an architectural monument, like the temples at Angkor in Cambodia.
"There is nothing really outstanding in Luang Prabang," said Laurent Rampon, the former chief architect and head of the cultural preservation office in Luang Prabang.
"When you look at the architecture, it is interesting but normal, very normal; the temples are a little bit rough, not refined," said Rampon, who is now an independent architect and consultant to the city.
"What is really interesting in Luang Prabang is all that together," he said. "It is the ambience of the city, the daily life, the temples and the monks.
"In Luang Prabang, when the ambience is gone, it will not be Luang Prabang anymore."
As in neighboring Vietnam, Cambodia and Myanmar, it is war and repression that, for several decades, held back the development that has despoiled cities and historical sites around the region.
A poor, landlocked nation with a population today of just 6.5 million, Laos was a battleground during the Indochina war of the 1960s and 1970s and has been isolated from the world economy since then by a Communist government.
When tourist brochures describe Luang Prabang as a place where "time stood still," it is poverty and hardship that have allowed the past to linger.
Preservation and poverty go hand in hand, said Rampon.
"The paradox is that Unesco gives out the Heritage Site label partly to reduce poverty, but reducing poverty is reducing heritage," he said. "If you want to preserve heritage you must keep poverty."