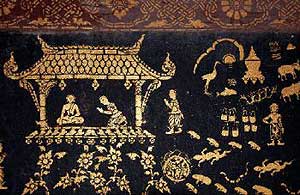 << Stories from the past: Exquisite murals on the walls of a wat in Lunag Prabang. Photo: Sudha Mahalingam
Laid out in front of them is a row of rattan trays laden with goodies. There are different types of sweet sticky rice wrapped in plantain leaves. There is a tiny bamboo basket with steaming white rice. Some have a few bananas and an occasional coconut and jaggery toffee. You join the crowd and find yourself a place on the mat. For a few kips, you also acquire a tray full of offerings and join the excruciating wait.
Suddenly a wave of excitement passes through the throng. You sense, rather than see, some movement. You spot flashes of orange and wonder if the first rays of dawn are in fact emanating from the ground. And then the silent figures amble into view. A long line of ochre-clad bhikus file past, their bowls swinging rhythmically.
Some are made of bamboo while others are multi-storeyed tiffin carriers in steel, brass or lacquer. The monks pause, to bend and accept the offering from each seated devotee and move on to the next at a brisk pace. They range from thirteen-year-olds to plus eighty. Yet, all this alms-giving and taking is over in a jiffy amidst deafening silence. When the first rays of the sun appear, you wonder whether what you had witnessed was not just an apparition.
Living tradition
But this was no apparition. What you witnessed was a living Buddhist tradition in a living Buddhist town in the northern part of Laos. In Luang Prabang, the ancient Imperial capital of Laos, it is a daily ritual, sacred and revered. Religion and tradition dictate that bhikus and bhikunis live on whatever alms they get for the day. Considering the crowd of devotees and tourists, they don't seem to be doing too badly though.
Nestling amidst mountains that separate Laos from its Chinese neighbour Kunming, the entire town of Luang Prabang is a UNESCO World Heritage Site. Unlike most of Indochina which can be sweltering even in December, Luang Prabang is cool and pleasant throughout the year. Very Buddhist and very French simultaneously, Luang Prabang is an eclectic destination for those who seek an out-of-the-ordinary experience without having to do out-of-the-ordinary feats like parachuting out of planes or sinking into shark-infested waters in a cage. Laid back, utterly unspoilt and relatively less touristy, Luang Prabang is a haven for city-frayed nerves. Sandwiched between Mekong and Nam Khan rivers, it is a tranquil town with trendy French cafes. Most of these bistros are wireless hotspots as well just in case you feel like chatting with folks back home! For those of you who want to go rafting down the moody Mekong or snorkel, there are options aplenty.
Main attraction
The palace museum, Luang Prabang's sole tourist attraction, is not difficult to reach, but beware of getting scalded by the red-hot engine just below your seat in the tuk-tuk. You leave your footwear outside the museum and your valuables in a locker before you enter. The royal residence was constructed for King Sisavangvong and after his death in 1959, his son Savang Vattana inherited it. But during the 1975 revolution, he and the rest of the royal family were exiled to northern Laos from where they haven't returned since. One of history's mysteries, this. The standing Buddha, the showpiece from which the town derives its name, fails to impress as do the gifts from India for Savang Vattana's coronation. But the Japanese glass murals that depict scenes from Buddhist scriptures are a novelty. Alix de Fauterau, the French artist has taken immense pains to create the murals that bring alive scenes from daily lives of Laotians. The gardens and vistas are impressive. The palace faces a hill, on top of which perches a Buddhist shrine that stands sentinel over the entire town.
Luang Prabang is strewn with delightfully quaint wats and viharas. In fact, the architecture of the town is so deceptive that you can hardly tell a hotel from a temple. Wat Xieng Thong, however, doesn't suffer from such identity crisis. Perched majestically on the banks of the mighty Mekong, this temple's grand architecture is quintessentially Laotian. Richly decorated wooden columns are supported by a ceiling that is vested with dhammacakka, the Buddhist wheel of virtue. Black and gold murals depicting scenes from Buddhist and Hindu scriptures dazzle from the ceiling, the walls and pillars. The rear wall features an impressive tree of life in mosaic. At the entrance is a funerary chapel with a golden chariot. But my favourite spot is a cool peepul tree under which stand a group of exquisitely sculpted Buddhas and Bodhisattavas. From here, you have a vantage view of the river. A steep flight of steps leads you to the water on which are bobbing numerous boats laden with orange-robed monks.
Beyond time
It's sheer bliss to wander around Luang Prabang's only high street, Talat Dala, picking up antiques and gorgeous silk scarves. Expat shopkeepers outnumber locals and the merchandise is priced accordingly. I wonder why most of the hotels seem familiar. Then the penny drops. I had surfed the Net and checked out each one of them before booking our stay in Luang Prabang. We, four women from India, seem to be the only Indian travellers in Luang Prabang, but even we're mistaken for Spaniards. We have been travelling along the Mekong, all the way from Chau Doc in Vietnam, to Phnom Penh and Siem Reap in Cambodia and thence to Vientiane and Luang Prabang, both in Laos. But when you arrive in Luang Prabang, you know you've reached your destination finally! Even time bows out. Lotus eaters could not have felt more languid.