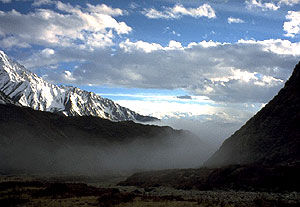 << Gongga-shan: Words cannot describe its majesty

"I could not help exclaiming for joy. I marvelled at the scenery which I, the first (European) man ever to stand here, was privileged to see," he wrote.

Almost 80 years ago it took Rock a month to reach the mountain from his base near Lijiang in Yunnan Province. But today you can see the same majestic sight after only a day or two's journey from the modern town of Kangding.

The mountain is still hidden from view and is not visible from near Kangding. Some travellers believe they have seen the mountain when they are in fact seeing some of the many lesser peaks of the extensive Minya Konka range.

But with a little effort, it is possible to see Gongga Shan at its most impressive - from the western side. Trekkers can now hire a jeep or bus to take them to Liuba, a Khampa Tibetan village in the Yulongsi valley, which can be reached in half a day after crossing the 4,200 meter high Zheduo Pass west of Kangding.

There are no roads beyond Liuba, and the best way to get there is to take a horse over the 4,000 metre high Tsemi La Pass and then down into the Buchu valley. There, you can stay at the small but beautiful Konga Gompa monastery, perched on the side of a valley above a glacier flowing off Gongga Shan.

It takes several hours for horses to climb up the steep sided Yulongsi valley. But when you eventually reach the barren pass, you are rewarded with the same views that made Rock so ecstatic in 1929. On a clear day you can see the full length of the peak of Minya Konka soaring high into the sky, almost opposite you. This is much more impressive than the distant views of the peak gained form the eastern side of the mountain at Hailuooguo. Descending into the Buchu valley, you enter an isolated natural wonderland. The animals and plants here grow wild because there are no roads, no machines, and no hunters. The local people believe that all natural life in the area around their "Holy Mountain" is sacred and must be preserved.

This was confirmed to me by the lone Buddhist monk in residence at the small Konka Gompa monastery. He said the mountain was the physical incarnation of the mountain spirit Dordjelutru, which is equal to that of the deity, Shenrezig.

The local Buddhists believe that there is no more beautiful spot on earth than Minya Konka (Gongga Shan), and that one night spent on the mountain is equivalent to ten years spent sitting in meditation and prayer. And one offering of burning juniper here is worth hundreds and thousands of prayers, they say.

According to an inscription at the temple, Padma Sambhava, the Indian founder of the "Red Hat" branch of Buddhism pronounced that all the Buddhist deities dwelled within this sacred mountain and so anyone gazing upon it would have all their past sins wiped off the slate so they may begin life anew.

You can stay at the Konka Gompa in one of the few simple guest rooms. It can be very cold in October, and you will need warm clothes and a sleeping bag. Remember also that there are no shops at all, so you must bring all your own food.

The local Khampa Tibetans look like fearsome warriors but are friendly, and live a simple but rugged life in their beautiful surroundings. The women still wear the traditional Khampa Tibetan dress, and even the men have red twine threaded in their long hair.

As you sit in grand isolation at the monastery below Gongga Shan it is hard to believe you are only two days from Chengdu, and the wider world. You feel like you are far away, in time as well as distance.

Best seasons to go there are May-June or September-October.

How to get there

Hire a jeep in Kangding to Liuba, (or take the daily local bus) then hire horses and a guide for 100 yuan a day. (Three-four days round trip). You can also trek with horses all the way from Kangding via Lao Yulin (6-7 days round trip). Kangding is a day's bus ride from Chengdu.