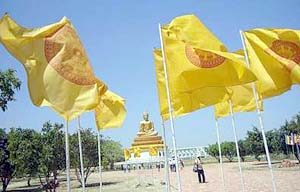 << The Buddha of Mahamonkolchai International Meditation Centre.

The train itself isn't. 

The coaches have seen a few years of service, and it shows. But bed sheets are always clean, there is air-conditioning, service is excellent, and the food is not bad. Of course, travelling overnight via rail is most agreeable. You sleep like a babe to the rocking of the train, then wake up and – voila! – you are there. 

Painless.

Except, as with most tours, you have no choice but to rise and shine when you would have preferred to sleep and snore. In all, it's five nights on the train, two in hotels, and many hours on the bus. Indian Railway Catering and Tourism Corporation say they will include laundry service, dining coach and shower facilities (the bucket-splash style of bathing not catching on).

The eight-day tour covers the four sacred sites of Lumbini, Bodhgaya, Sarnath and Kushinagar (see main story), and many other places that the Buddha graced in the 45 years that he spent tramping up and down the Gangetic plains spreading his Dhamma (teaching).

Whether you are Buddhist or not is of no consequence; whether your journey is spiritual or historical in nature is entirely up to you. As an introduction to the life of the Buddha, this trip is excellent.

There are many highlights. 

Huffing and puffing up Vulture Peak (Griddhakuta) in Rajgir in the brutal Indian sun was strangely and crisply gratifying. It gave just the tiniest idea of how things must have been like for the peripatetic Buddha. The view at the top is lovely, if heat-hazed. The Buddha meditated and delivered important sutras here.

You visit the ruins of Nalanda University too. Reportedly the world's first university, this seat of Buddhist learning was established in the 5th century. 

Over in Saravasti there is Pakki Kuti or Angulimala's Stupa. Angulimala, of course, was the mass murderer who, calmed by the presence of the Buddha, gave up his violent ways. The Mahamongkolchai International Meditation Centre, a Thai outpost still in the works, boasts a huge golden Buddha.

After one site too many, pausing, gawking and walking, one may find the ruins and buildings becoming undifferentiating, so it is just as well there are other attractions. 

Putt-putting down the Ganges to the famed banks of Benares is an experience to savour.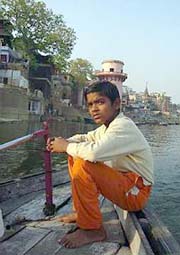 << Boat boy on the Ganges. — S.B. TOH

Enterprising young boys in their little boats paddled up to hawk prayer bells, beads, Russian dolls etc. On the paved bank: a hive of activities. Hippies distributed food to the poor, masseurs homed in on the tourists. There were holy men and peddlers, daytrippers and beggars, families and bands of young men. 

Sip hot chai (tea) from clay cups, then smash them up. Novel. As night fell, the crowds gathered and the priests clambered up pedestals to lead the prayers. Mass chanting reverberated up and down the bank, lights twinkled, bells pealed, flashes fired. 

It was electric.

Then our boat stole away into the breezy quiet where the moon glistened the dark water and little fish leapt alongside. 

A stopover in Agra concludes the trip. This means the Taj, the always-photogenic Taj Mahal and its horde of not-always-very-photogenic admirers. And Agra Fort too, where – deposed by his son – Shah Jehan, builder of The Taj, died gazing at the immortal monument to his wife.

All in all, the Mahaparinirvana Special is a pretty good trip.

------------------------
The inaugural trip was on the invitation of India Tourism. The flights were sponsored by Sri Lankan airline, which operates – it must be said – very decent flights to the subcontinent. For more details on the Mahaparinirvana Special, contact Asian Overland Services Tours & Travel, tel: (03) 4252 9100, fax: (03) 4257 1133, www.asianoverland.com.my