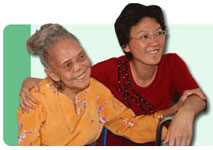 KHC's professional team of 3 doctors, 2 nurses and over 50 volunteers visit patients at palliative care, oncology, renal and HIV/AIDS wards at 3 public hospitals and provide home care visits to patients and their families. Patients under the care of KHC are being provided with medical consultation, nursing care, medication, consumable items and loan of equipment such as oxygen concentrator, ripple mattresses and wheelchairs, all free of charge. KHC's hospice services are extended to all people with diverse background and are residing in Kuala Lumpur and its surrounding areas.

Since its establishment, it has provided 3000 hours of home care service to 131 terminally ill patients, visited more than 1,400 patients in hospital wards at 3 public hospitals; nursed a Tibetan Nun from Spiti, India who became critically ill when attending an international Buddhist conference in Kuala Lumpur and fulfilled her wish to return home and die at her own nunnery in remote Himalaya region (Refer newspaper script below); trained more than 120 volunteers and created awareness on hospice care to more than 1000 people.

Realizing the need to provide in-patient services to patients who are destitute, without careers at home, or whose home environment is not conducive for dying, KHC plan to build an in-patient facility which will cost RM 2 Million (about US$ 569,000) to construct and RM 1 Million (US$ 285,000) annual operating cost.

Being a charitable organization with no income except public donation, KHC needs support from donors and corporate. To benefit donors, KHC plans to apply for tax exemption form the government. However, under the local government law, it has to first establish a foundation and to have 1million in the bank account at the time of such application.

In order to sustain its operation meantime, KHC has established an on-line shopping at http://www.kasih-hospice.com/kasihplace/ where proceed from selling the items such as organic and wholesome food, Himalaya personal care products, relaxation music CD and Kenox home wares are donated fully to KHC.

Please log on to www.kasih-hospcie.org for further detail about Kasih hospice Care Society.