"And let one cultivate a boundless heart of loving kindness towards the whole world - above, below and across, unhindered, without hatred, without enmity. Whatever living beings there may be; whether weak or strong, large, medium, short or small, seen and unseen, those living near and far away, those born and yet-to-be-born; May all beings be well and happy!" - The Buddha (Discourse on Loving Kindness [Metta Sutta]) 
The pervasive nature of Buddhist teachings and how it has influenced the culture that it has touched makes for interesting observation. Whether it's a simple bow, or a chant to pay homage to the Triple Gem, the light of incense or a gentle hit on the gong, the sound, color and scent that emanates from the activity gives out different nuances and rhythmic hues.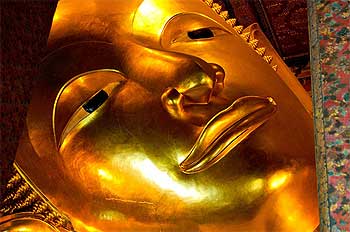 << Giant Reclining Buddha in Wat Pho, Bangkok, Thailand
The kaleidoscope of Buddhist sight and sound is diverse and enduring, yet unifying. Its message of peace and compassion traverse throughout regardless of the language spoken, lifestyle of a people and climate of a place. Moving through this unique rhythm of social impulses, the traveler discovers a rich fabric of humanity that can only be found in Buddhism.
It is through this prism that Buddhist Travel was conceived. As the spin-off from Buddhist Channel (www.BuddhistChannel.tv), Buddhist Travel aims to cover all Buddhist destinations found on this globe. Instead of being a publisher and trying to get as much primary and secondary sources to populate content on the website, we will try to do things differently.
Using the latest in Web 2.0 technologies, Buddhist Travel aims to get community involvement in feeding information about recommended sites and the do's and don'ts as much as possible. Apart from leveraging on tools like Flickr, Google Map, Wikimapia, Wikitravel, Buddhist Travel will also have an Electronic Calendar and a Virtual Tourist Reporter. With these tools in place, we wish to allow you – the traveler – to share your unique Buddhist experience with others and tell your story as your "aggregates" encounter them.
More than just describing places and what to see, Buddhist Travel would like to see more cross cultural exchanges, and hopefully some "loving kindness" will rub off with whoever you meet, far or near, large or small, in the spirit of the Metta Sutta.
In the first phase of development, Buddhist Travel have listed more than 300 sites, holy places, religious buildings, religious artifacts, and pilgrimage destinations in mainly Asian countries. The sites are arranged by category and country and are searchable. Phase two will move on to non-Asian countries, such as Europe and North America.
We will try, resource permitting, to provide some basic explanation on Dharma terms and teachings to augment the description of a place or activity. With this facility, we hope to help you obtain a better understanding how Buddhist influence played a role in the place's history and its social and cultural development.
This website is marked as Beta Version 1.0, and will be continually expanding, so we would encourage you check back often to see what's new or subscribe to an RSS feed.
Note: Buddhist Travel is a community service project provided free of charge by the Buddhist Channel.
---
Buddhist Traveller Tales

Kingdom in the Clouds
by Susan Gough, Toronto Star
PARO, BHUTAN -- The tiny landlocked kingdom of Bhutan has managed a spectacular promotional feat. First, the Fourth King announced he measures his country's progress in terms of Gross National Happiness. Then he essentially limited the number of visitors by charging a minimum of $200 a day for accommodation, food, driver and guide.

In the Buddha's footsteps
by S.B. Toh, The Star
Kuala Lumpur, Malaysia -- The life of the Buddha is one of the most inspiring stories ever told. The Buddhist circuit of northern India and Nepal allows pilgrims and tourists alike to "walk with the Buddha".

Frescoes of Dunhuang
by Ziying, The Star
Dunhuang, China -- It is said that if the Buddhist murals at Dunhuang's Mogao Grottoes were joined together, they would stretch for 30km.