Ladakh
Ladakh is bounded by world's two mightiest mountain ranges the great Himalayan and the Karakoram, It lies athwart two others The Ladakh and the Zangskar range. It lies at altitude ranging from about 2,750m to 7,673m.

Summer temperatures rarely exceed about 27 degree celcius in the shade, while in winter they may plummet to minus 20 degree celcius even in Leh. A note of caution for travellers to this region. It is said that the thin air makes the heat of the sun even more intense than at lower altitudes. Do not be surprised to find that only in Ladakh can someone sitting in the sun with his feet in the shade suffer from sunstroke and frostbite at the same time!

Ladakh never fails to leave first time travelers awestruck with its majestically sweeping landscape and rich local cultures. The features of Ladakhi people, their clothes and dialects are similar to Tibetan and Mongoloid, then Indian.

The Mons from Kullu and Tibet were the first population immigrants to Ladakh as shepherds' nomads and settled down near Indus River. Later drads and others immigrated to Lower Ladakh. Due to cultural and geographical similarities Ladakh is popular among tourists as Little Tibet.

Buddhism is the dominant religion in Ladakh while Kargil district is dominated by Muslims and Buddhist. The approach to Ladakh is invariably marked with many walls that are long upto 2 to 3m, decorated with engraved stones bearing the mantra "Om Mani Padme Hum" and Chortens which symbolizes Buddha's mind.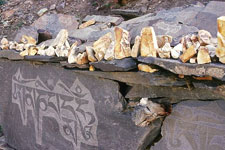 Walls decorated with "Om Mani Padme Hum" >>
The Villages and Mountains are ornamented with gompa or monastery residing thousand of Buddhist monks, Singee Palace at Leh hermits and Nuns. Islam came to Ladakh from central Asia and Kashmir after 15th century AD. Now the Kargil, Drass and Suru valley is populated by Shia and Sunis are in Leh and Kargil in smaller scale.

Ladakh, situated in the state of Jammu and Kashmir, is a former kingdom of the Himalayas that shares more common geographical and cultural traits with Tibet than with the rest of India. Some even say that Tibetan culture is nowadays better preserved in Ladakh than in Tibet.

Like its cross-border neighbor, Ladakh is a high altitude semi-desert lying in the rain shadow north of the Himalayas. The only greenery are the irrigated wheat and barley fields near the isolated villages, most of which are accessible only by trails that follow deep river valleys.

The sublimely austere and lonely mineral landscape of Ladakh is dotted by gompas, Tibetan buddhist monasteries, of which the most spectacular is Phuktal in Zanskar, clinging to the opening of a huge cave above a gorge. Zanskar is the most remote region of Ladakh, accessible by road only during four months of the year.

By contrast to Zanskar and Ladakh, the Lahaul region (which used to be part of the kingdom of Ladakh), in Himachal Pradesh south of the crest of the Himalayas, presents verdant valleys.

The Gompas (Monasteries) of Ladakh

A Gompa (Buddhist monastery) is meant to be the main center for worship, isolated meditation and religion teaching. Monasteries are also one of the major attractions of the tourists visiting the beautiful valley of Ladakh.

People come to Ladakh either to enjoy its scenic beauty or visit its monasteries or both. The entire valley of Ladakh is dotted with monasteries of all kinds, belonging to various orders or schools of Buddhism. Almost all these monasteries are sited at scenic locales, enhancing their magnificence further.

They monasteries found here boast of a rich collection of Buddhist relics like thankas, murals, sculptures, scriptures, etc. Typically, the monasteries in Ladakh have been located at isolated areas, away from the hustle bustle of the routine life.
This lends an air of peace and tranquility to them. Visitors should make a point to visit some of these ancient monasteries. The following lists some of the most prominent Gompas found in the region surrounding Leh, the capital of Ladakh.

Copyright (C) Q T Luong
---