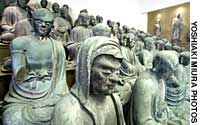 << A few of the hundreds of seated wooden Rakan figures created by the Edo Period sculptor Shoun Genkei on display at the Gohyaku Rakan Temple in Tokyo's Meguro district.

There are also, however, statues of Buddhist patriarchs and guardians, which portray human characters and emphasize realism and individuality. Among them, Rakan are the disciples of the historic Buddha who were entrusted by him to remain in the world as role models for ordinary people. Rendered as gaunt, tonsured ascetics, they are expressive of their individual emotions, and are often carved on stones for outdoor display in numbered sets such as 16 or 500.

Shoun Genkei (1648-1710), a sculptor in Edo, made a vow to create 500 life-size wooden Rakan figures. When he achieved his goal after more than 10 years of toil, he built a large temple in 1695 in Honjo, northeast of Fukagawa, in what is now Ojima 4-chome in Koto Ward. The temple, named Gohyaku Rakan-ji Temple, meaning "500 Rakan-ji Temple," had two L-shaped wings sticking out from the main hall, where a total of 536 statues, including those of Shaka Nyorai and bodhisattvas, were placed for public viewing. That amazing array of gold-lacquered statues immediately attracted a constant stream of visitors.

The accompanying 1830s woodcut print by Hasegawa Settan shows part of the East Wing of the Gohyaku Rakan-ji. In a technique employed in traditional Japanese painting, the edifice is shown roofless to allow a view of the interior. Swirling clouds in the upper left and lower right are another conventional technique employed to eliminate the need to show insignificant details. The Rakan statues, arranged in two sections (upper right and middle to lower left), appear at first sight to be real ascetics at a religious gathering.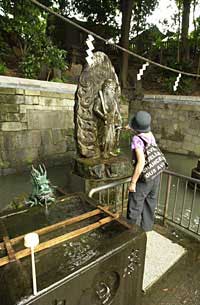 A visitor admires the statue of a temple guardian in  the Tokko no taki monks' bathing pool fed by a waterfall at Meguro Fudo Temple set on steep, wooded ground adjacent to Gohyaku Rakan Temple. >>
On the picture's right-hand side, a dark-robed monk is about to enter the building. Other visitors already inside are touring on the designated route from right to left, marveling at row after row of statues and looking for the likeness of someone they know among them. The illustration continues to the unseen other parts on the left, leading to the main hall dedicated to the principal Shaka Nyorai, and farther to the West Wing where the tour ends.

Believe it or not, but today you can follow the steps of Edo people through the Rakan temple, not in Honjo, but in Meguro. The temple was moved in 1908, and, after many vicissitudes, it was reconstructed in 1981 with a modern gallery and main hall to house the 305 of Shoun's creations that have survived.

Start your walk at Meguro Station on the JR Yamanote and Metro Nanboku lines. Leaving by the West Exit of the JR station, turn left to cross the highway and then go immediately right on a downhill slope to the left of a construction site. Soon, you will see Daien-ji Temple, which has 500 Rakan in stone bas-reliefs. The Rakan here are associated with a big fire in 1772 which started at the temple and spread to Nihonbashi and Asakusa, leaving several thousand dead in its wake.

Continuing on downhill, passing by the towering Meguro Gajoen Hotel on your left and then crossing a bridge over the Meguro River, you will reach Yamate-dori highway, which you should cross via the pedestrian bridge. Walk straight to the next stop light and turn right.

It is worth pausing at Kaifuku-ji Temple, whose red-painted gate is set back from the street on the right. A pair of memorial stones in front of the gate commemorate the collapse of Eitaibashi Bridge during the Hachiman festival in 1807 (see this column last month). In memory of the terrible accident in which hundreds died, these stones were erected in the compound of Kaifuku-ji Temple, then in Fukagawa, and they were relocated here when the temple was moved in 1910.

A cluster of ugly concrete buildings, the adjacent Gohyaku Rakan-ji may not seem too appealing to visit. However, Shoun's prolific creations as the outpouring expressions of his devotion are well worth viewing.

The gallery of Rakan (on the right atop a stone stairway; a small admission) exhibits 80 to 90-cm-tall seated figures in three rows on stepped tiers. Each is named after the religious pursuit he is practicing and no two are alike. Amazingly, the tarnished statues occasionally seem to wink when the slivers of gold lacquer retained in the grooves of their eyelids catch sunlight filtering through the glass windows.

The quiet excitement emanating from the Rakan group changes to a more dramatic sensation as you step into the green-roofed main hall. Instead of the usual altar with an inner shrine, a 3.5-meter-tall golden statue of Shaka Nyorai dominates the high interior, depicted in an imaginary scene of preaching to a congregation of bodhisattvas, patriarchs and Rakan. A taped sermon played here repeats simplistic teachings addressed to the contemporary audience. You are welcome to take a seat and be immersed, if only temporarily, in the solemn atmosphere.

Long considered kitsch, Shoun's works remained in obscurity until they received a Tokyo Metropolitan Government designation as a tangible cultural property in 1970.

Leaving the temple, you might want to explore the adjacent Meguro Fudo Temple in wooded compounds off to your right. Walking around the colorfully painted main hall to its rear, turn right at a children's playground to follow a path which takes you back to Yamate-dori and then backtrack to Meguro Station.