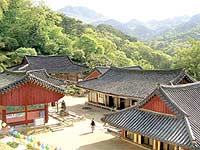 << Heinsa Temple on Mt Gayasan is surrounded by beautiful scenery.

The donning of monastic robes was the early part of a tour during which we stayed at temples and got an interesting insight into the Korean way of life, the religious leanings of its people and the local culture.

Temple-stay tours have risen in popularity since South Korea and Japan the Soccer World Cup in 2002. That's when the idea took root and since then it's grown to a point that some 32,000 Koreans and 3,000 foreign visitors have subscribed to it.

"We are especially busy during the weekend," said Eui Boon Shim, a staff of the Templestay Division, a special unit set up to take care of tourist activities.

South Korea, like Thailand, is a predominantly Buddhist country, but the way Buddhism is practised there is different from the way it's observed here in Thailand.

Heinsa Temple, where we stayed, is one of the 36 such facilities across South Korea that have opened their doors to tourists.

Apart from being a highly venerable place, it also provides peaceful atmosphere that helps soothe one's mind. Staying there, one is rewarded with beautiful scenery and a part of Korean history not available elsewhere.

Changing into monastic robes is the first act required of visitors. It eases them into other activities that teach them how to focus the mind.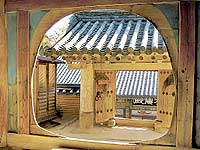 << Stepping through the temple gate to largest collection of Tripitaka Koreana.

Participants also learn to lead a simple life, which means no home comforts such as sofas, king-size beds, cushions, or even a proper bathroom. Instead, you have to share a room or a dormitory with others, and also the bathroom. Anyway, it's not too bad as they provide clean pillows and blankets.

Like other temples, Heinsa provides visitors with a chance to practice some of the daily activities Korean monks perform in order to experience first-hand what kind of life they lead.

We began with a temple tour, led by Ilam, a kind-looking monk with a smiling face.

Heinsa is one of the three most famous temples in South Korea. Built by Suneung and Ijeong during the reign of King Aejang of the Silla Empire (AD 802), it nestles on Mt Gayasan in Hapcheon-gun district of Gyeongsangnam-do province.

Its claim to fame is that it houses the largest collection of Tripitaka Koreana in East Asia, and because of that Unesco declared it a World Heritage site.

After the walking tour, Ilam led us to practice various temple activities. We joined Yebul,, the ceremonial chanting of monks. Here I learned one difference in the way Korean and Thai monks pay their respects to Lord Buddha. Korean monks stood up and knelt all the way down with their forehead touching the floor and repeated it several times during the chanting.

Thai monks on the other hand sit and krab bend down hands clasped, with their forehead kissing the floor, three times as a mark of respect for Lord Buddha, dharma and sangkha, the supreme religious council.

During the evening, we learned of the Balwoo Gongyang _ the communal meal where everyone has to keep silent and be thankful to every grain of rice one eats.

"This is to train your mind and keep yourself aware of every movement," explained Ilam.

Next came the Dahdoh tea ceremony and an opportunity to learn about Korea's tea culture, as well as discuss Buddhist teachings with Ilam. The session offered an insight into the Korean way of Buddhism.

Next morning, we were woken up at three o'clock by the loud beating of the temple gong to join the pre-dawn chanting of prayers. After that, Ilam led us to practice Chamseon or Zen meditation. There, the tranquility and refreshing atmosphere in complete darkness made for a solemn start to what turned out to be a good day.

After the pre-dawn meditation we had Balwoo Gongyang or breakfast and went out on another exploratory walk and discovered that Heinsa Temple had a lot more to offer than than we originally thought.

At the end of the tour, I must admit it helped broaden my view of Buddhism, but the conclusion I drew was that even though it's practiced and believed differently in different countries, the ultimate message and objective is the same: to overcome human suffering.

For more information about templestay tours, browse www.templestaykorea.com.