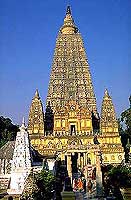 Behind every spiritual aspiration there are plebian concerns too: transportation and accommodation. Gaya is no exception. True to its status as a pilgrimage centre, access to this holy destination is nothing short of a steeplechase for the budget traveller.

A bone-wracking 8-10 hours by road from Varanasi, Gaya is also reachable by rail, a more comfortable option provided you are willing to risk losing life and possessions in Bihar's badlands. There are no scheduled flights to Gaya. So for those who can afford it, chartered flights are the best option. Gaya is but two hours by air from Delhi.

While Gaya has several personalized guesthouses and many families offer paying guest accommodation, Bodh Gaya offers the visitor a choice of hotels ranging from functional to luxury. There are 22 Buddhist monasteries here, each built by a different country, including Nepal, Bhutan, Japan and Thailand.

The Japanese are now constructing a new 500-room monastery that when complete, will be the largest. The Mahabodhi temple is built on the area where Prince Siddhartha is believed to have meditated under a Bodhi tree and where he woke up to the ultimate truth. A 62-foot Buddha asserts that this is the land of the Holy Buddha.