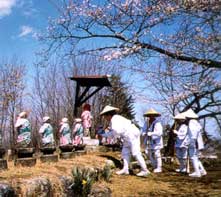 << Spiritual steps: Buddhist pilgrims hike along a path toward the next temple in Chichibu

It will be Yada's 32nd temple in four days. And she is no stranger to the trail; this is the eighth time she has made the pilgrimage walk, which covers 100 kilometers and 34 temples famous for their statues of Kannon, the goddess of mercy. "I have become addicted to the pilgrimage walk," says Yada, who quit her job as an office clerk four years ago. "I stop thinking about worldly things when I walk. It's like emptying myself."

Yada says she is an atheist but has contracted a serious "pilgrim disease." The bug is spreading fast among Japanese, who are increasingly making soul-searching pilgrimage trips on nearly 300 different circuits nationwide. Instead of driving or taking tour buses, growing numbers of pilgrims now prefer to walk. "I have seen more people visiting my temple by foot," says Shunbun Aratani, chief monk of the Hoshoji temple. "It looks to me like the people are tired of material things. Walking makes them think and helps them to find themselves." Indeed, Masaaki Sakata, a sociologist at Tokyo's Waseda University, believes the pilgrimage boom reflects the desire among Japanese to get back to nature and focus on what's truly important. "It's not pure tourism," he says. "They are not looking for a genuine religious experience either. What they are searching for is a new kind of spirituality."

The pilgrimage tradition in Japan goes back at least to the eighth century. Each circuit usually has 33 or 88 sacred sites--such numbers are auspicious in Buddhism--and a pilgrim is supposed to visit them in a set order. Pilgrims can divide the journey into stages, but each time they stop they must pick up where they left off. When they arrive at a sacred site, they recite a Buddhist chant and get a stamp and inscription from each temple.

One of the most popular temple "circuits" is the one that takes in 88 holy sites on the southern island of Shikoku, and covers about 1,200 kilometers. There the pilgrims are called henro and the people who live along the trail still maintain the old custom of osettai, which means showing hospitality: a cup of tea, some food, warm greetings and even accommodations. According to Sakata, who has walked parts of the Shikoku route, the idea of the walking pilgrimage became more popular after NHK, Japan's public broadcasting system, aired documentaries in the late 1990s featuring celebrities making the circuit. Most major bookstores have a special section devoted to pilgrimage travels; Web sites provide information on road conditions, weather and travel tips.

The trend has even spawned a new vocabulary: fufu-henro refers to couples who journey together, wakamono-henro to young pilgrims and teinen-henro to those who embark on a pilgrimage after retirement. Indeed, recent retirees are among the biggest devotees. "When I left the company finally, I felt useless and didn't know what to do," says one recently retired accountant in Yada's group, who asked to remain nameless. "The pilgrimage gives me peace of mind and something to do." He has begun to study the history of the temples on the Chichibu trail. Politicians are getting in on the act, too: after Naoto Kan, the former leader of the opposition Democratic Party of Japan, resigned from his post last May, and walked parts of the Shikoku pilgrimage in three trips. "I felt so refreshed after the trip," Kan wrote on his Web site. "Walking the route was the best chance for me to get to know the region and the people."

For others, the pilgrimage represents a link to the past. Masahiro Kono, a 29-year-old graduate student in sociology, decided to walk after finding a stamp book of his great-grandmother, who had made the Shikoku pilgrimage in 1911. He followed in her footsteps, dividing the journey into three phases. It was not an easy trip; he endured heavy rain and bleeding blisters on his feet. But as he stood at the last temple, he felt a strong sense of connection. "I felt I was a part of my family history," Kono says. "I also felt that I was connected with the people whom I met during my journey." Despite his suffering, Kono says he would consider making the pilgrimage again. "It makes you think and look at life from a different perspective." And blisters always heal.