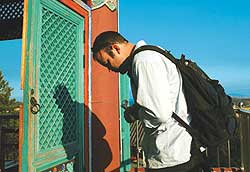 The Chogye Order of Korean Buddhism has opened 38 temples across the nation and is providing programs of varying duration (two days and one night, or three days and two nights).

The temple stay program gives the general public the chance to experience the lives of monks and enjoy the traditional Buddhist culture of 1,700 years, surrounded by beautiful nature.

Magoksa Temple on Mt. Taehwa in Kongju, in South Chungchong Province, is one temple offering the stay-over programs targeted at people of various ages and professions.

A recent temple stay program at Magoksa from Dec.3 to Dec.5 attracted about 20 students from the International Relations and Language department of Chung-Ang University, whose nationalities included Russia, France, Kazakhstan, Uzbekistan, India and the Philippines. They were joined by two foreign backpackers from Scotland and Australia and two Korean students who had just finished their stressful University entrance exam. A professor emeritus of English at Chungnam National University participated as a volunteer interpreter for the foreigners.

The program was composed of ``yebul (Buddhist ceremonial service),?? 108 bowings, walking meditation in the woods at sunrise, ``chamson (Zen meditation),?? ``tado (tea ceremony),?? striking of the temple bell, ``palwu kongyang (Buddhist traditional meal with four bowls),?? death meditation after writing one?s will, Temple Tour, and making paper lotus flowers.

While other temples have programs with a different emphasis on relaxation, expansion of knowledge or to gain simple understanding, Magoksa?s programs put importance on attaining a deeper knowledge of your mind and inner-self. The one thing in common is that it allows the general public to actively participate in the process rather than just observe it.

Monks practice yebul three times a day, at 3 a.m., 11 a.m. and 6 p.m. Yebul involves chanting and bowing in front of the altar, paying respect to Sokgamoni Budda, the historical Budda. The chanting is melodious and even if you don?t understand the words, here?s your chance to plunge yourself into deep self-reflection and attain a sense of tranquility through listening to the chanting. Yebul is followed by 108 bowings, which is a way to rarefy human?s 108 earthly desires, according to Buddhist teaching.

``I like the fact that general people can join in the chanting of the monks,?? said Praveen Tamrkar, a 27-year-old Indian student from Jawaharlal Nehru University. ``Although it was hard to restrain oneself from sleeping more and speaking during meditation, I learned how to control and empty unnecessary desires within myself.??

Azamat Akbarov from Uzbekistan World Language University in fluent Korean, says Korea?s culture of bowing is what makes it special to him. ``The Korean way of bowing shows full respect to other people you meet, which is hardly seen in other countries,?? he said. ``Islam says that God exists within yourself and I found that it is the same thing with Buddhism.?? Akbarov added he would like to become a journalist who can play the role of linking Korea and his home country.

After completing yebul with monks at pre-dawn, the participants are led to have a ``hangson (walking meditation)?? in the woods, as a part of Zen meditation. As you follow the unknown path in the dark with your companions, you can feel yourself becoming overwhelmed by the refreshing sense of clean air and sounds of nature, like the rustling of leaves and insects, which are hard to catch in city life.

``What I like about Buddhism is that it does not worship form but teaches you to believe in your inner-self. It says that Buddha is in yourself, which seems to most logical to me,?? said Emma Clynch, an Australian yoga teacher, who said that a temple stay was a priority when she planned her trip to Korea.

``It is just amazing to see the day-to-day life of monks, to see how modest, self-disciplined and content they are at the same time. I hope there will be more active promotion of the programs so that more foreigners can have a chance to have this wonderful spiritual experience,?? she said.

``Palwu kongyang,?? a unique Buddhist meal of four bowls, is one of the most impressive parts of the program, showing you the essence of Buddhism _ achieving a sentient and modest being. ``Palwu?? means bowls containing a moderate amount, and can also be referred to as monks? eating style. Only rice and vegetables are served in palwu and you have to eat everything you took in your bowls. After having a meal, you have to clean your bowls with water and save some of the left-over water in other bowl. It is called ``Chongsu water?? and not even a grain of rice nor a speck of red pepper is allowed to be in it. As there was something left over in the water, everyone in the group had to drink it. However, as some people refused to drink it, surprisingly enough, the monk that directed the participants drank everything. After that, no one left anything when having a meal. This teaches the importance of food in such times when enormous quantities of food are wasted without much consideration.

Tado, a tea ceremony involving drinking tea with the monks, teaches you how to achieve proper mindfulness and have polite conversation with others even in a short time.

In death meditation, one is required to write a will as if death were only two-hours away. By writing a will to one?s loved ones and burning it, one is encouraged to seriously think about the precious people in one?s life and value life.

``This temple stay program seems to be very appealing to foreigners cause it is very different from western culture,?? said Yu Sang-woo, the manager of the Committee for Buddhist Temple Stay. ``It provides them with the chance to see Korea as the `land of morning calm.? With the prevalent trend of Zen meditation, the programs are likely to continue to gain popularity among Koreans as well as foreigners. About 30,000 people have stayed in Korean temples this year alone,??

The idea of temple stays in Korea came out during the 2002 Korea-Japan World Cup. The government, fearing insufficient accommodation for soccer fans during the World Cup asked the Buddhist temples to help by opening up their doors, and this proved to be such a success that it has now developed into one of the strongest tourist attractions of Korea.

The Ministry of Culture and Tourism recently announced that it will provide financial support of one billion won for management fees of temple stays Korea and 1.5 billion won for expanding the lodging facilities next year. Accordingly the number of temples that run the temple stay programs is expected to increase from 38 to 60.

``The participants of this program can feel at ease because we do not force them into becoming believers of Buddhism. We just let them freely experience and naturally feel the essence of Buddhism, which focuses on getting to know who you are and having an insightful attitude about one?s life, making your life fuller and more fruitful. Buddhism is open to every other religion,?? said the monk Maga, an instructor of the program and Deputy Director of missionary work.

Reservations for temple stays are possible on the temple stay website www.templestaykorea.net. For more specific information about individual programs, call at (02)732-9925~7. The programs vary in price from 30,000-50,000 won for the basic programs and 50,000-250,000 won for more intense and specialized programs.