Sigiriya Rock Fortress in Central Sri Lanka was where we'd been scheduled for a climb. Our tour guide warned that the climb would be difficult – it was twice as steep as Dambulla Cave Temple, and twice as far. About half the group took up the challenge, while splinter groups headed for a massage or stayed back to relax at the Amaya Lake Resort.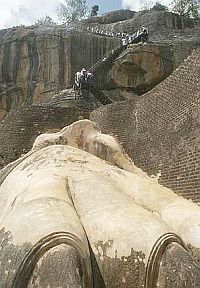 << A sight to behold: The colossal paw of the lion at Sigiriya Rock Fortress.
This fortress is the 5th century "Fortress in the Sky". It is a rock fortress where King Kasyapa (477-495AD) ruled and is world famous for its frescoes. A great engineering feat, Sigiriya is also a fine art gallery. It was said to have 500 paintings, but today, only 21 remain.

It is also known as Lion Rock because a huge lion used to stand guard at the entrance. Within its triple-moated defence, the huge rock rises to 370m. On its summit are the foundations of what were once a great and sumptuous palace and gardens, complete with swimming pool.

We also visited the Vidyalankara Pirivena, Sri Lanka's celebrated seat of Buddhist learning. Known as the Vidyalankara Sasgtrasalava at its inception in 1875, it has become more than just a seat of Buddhist learning and monastic training. Here, Sri Lankan monks get their appointments for overseas postings.