The Dambulla Cave Temple, also known as the Golden Temple of Dambulla, a world heritage site, is in the central part of Sri Lanka.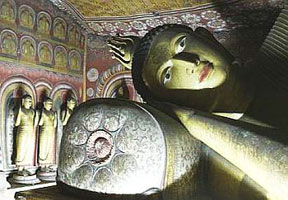 << Sweet repose: A reclining Buddha statue in one of the caves of Dambulla Cave Temple.
Atop this vast isolated rock mass towering 160m is the country's largest and best-preserved cave temple complex. This rock temple dates back to the 1st century BC and the Dambulla caves are said to have sheltered King Valagamba (also known as Vattagamini Abhaya) during his 14-year exile from Anuradhapura.

When Valagamba regained the throne, he built the most magnificient of rock temples on the island. The main attractions are spread over five caves, which contain statues and paintings related to Lord Buddha. In all, there are 153 Buddha statues, three statues of Sri Lankan kings and four of gods and goddesses.