Himachal Pradesh
Himachal Pradesh pronunciation is a state in the north-west of India. Himachal Pradesh is spread over 55,780 square kilometres (21,537 sq mi) and is bordered by the Indian states of Jammu and Kashmir on north, Punjab on west and south-west, Haryana and Uttar Pradesh on south, Uttarakhand on south-east and by Tibet area of China on the east. The literal meaning of Himachal Pradesh is Land of snowy mountains.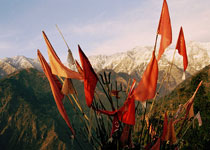 << Temple dedicated to Durga in the Himalayas, Himachal Pradesh, India
Himachal Pradesh was also known as Deva Bhoomi (the land of the gods). The Aryan influence in the region dates back to the period before the Rigveda. After the Anglo Gorkha war, the British colonial government came into power. It was initially in Punjab under the rule of Maharaja Ranjit Singh till 1857. In 1950 Himachal was declared as the union territory but after State of Himachal Pradesh Act 1971 Himchal emerged as the 18th state of Indian Union.
The state is located in altitudes ranging from 450 metres (1,476 ft) to 6,500 metres (21,325 ft) above sea level. The state capital is Shimla (formerly British India's summer capital under the name Simla); other major towns include Solan, Dharamsala, Kangra, Mandi, Kullu, Chamba, Hamirpur, Dalhousie and Manali.
Buddhism in Himachal
The remote valleys of Lahaul, Spiti and Kinnaur have strong Buddhist traditions. Splendid gompas, Buddhist monasteries, built along bare mountain-sides seem to be a part of the rugged terrain. These are the repositories of a wealth of Buddhist art and culture. The dim, cool interiors of ancient monasteries glow with the brilliance of painted murals, stuccos and elaborate thangkas framed with rich borders of silk.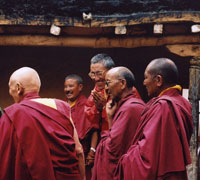 Buddhist monks in Dhankar Monastery >>
In Dharamsala, where the Dalai Lama has settled in exile, is a marvelous Tibetan township where an entire cultural tradition is being nurtured. It is a centre that attracts scholars, pilgrims and tourists.
The following is a sampling of the most interesting places to visit in Himachal Pradesh:
REWALSAR:
Perhaps the most sacred spot for Buddhists in Himachal Pradesh, Rewalsar is 20Rewalsar km south west of Mandi. According to legend, Guru Padmasambhava departed for Tibet from this beautiful spot, to spread the 'dharma'. A pagoda-style monastery stands along the edge of the lake.
GURU GHANTAL MONASTERY(3020 m):
This is on the right bank of Chandra river about 4 kms. above Tandi and is believed to be the oldest Gompa of Lahaul having wooden structure with pyramidal roofs, wood carving, preserving the idols of Padmasambhava & Brajeshwari Devi. On the full moon night in mid-June a festival called "GHANTAL" is celebrated by Lamas & Thakurs together.
KARDANG MONASTERY(3500 m):
It is about 5 kms. from Keylong across Bhaga river. It is believed to be built in 12th century. Monastery has a large library of Kangyur and Tangyur volumes of Budhist scriptures in Bhoti. Kardang village was once the capital of Lahaul.
SHASHUR MONASTERY:
Situated on a hill about 3 kms from Keylong (Lahaul & Spiti) towards north on the same slope. During June/ July this monastery attracts a large number of visitors when Lamas perform the devil dance. It was founded in the 17th century a.d. It belongs to red hat sec and is located among the blue pines. The paintings represent the history of 84 Buddhas.
TAYUL GOMPA(3900 m):
Tayul Gompa is 6 kms. from Keylong (Lahaul & Spiti) and is one of the oldest monasteries of the valley having a huge statue of Guru Padmasamhava about 5m high and houses library of Kangyur having 101 volumes. In Tibetan language Ta-Yul means the chosen place. There is an interesting story behind this.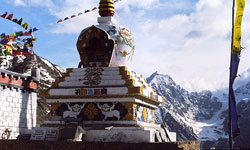 << Chortens at Kunzum La (4,551m), Spiti, Himachal Pradesh

KYE MONASTERY:
It is situated 12 kms. north of Kaza (Lahaul & Spiti) and serves the western population ofKye Monastery Spiti. It is the oldest and biggest monastery of the valley and located at (4116 m) above Kye village. It houses beautiful scriptures and paintings of Buddha and other goddesses. Lamas practice dance, sing and play on pipes and horns. Relegious training to Lama's is imparted here. It has murals and books of high value.
THANG YUG GOMPA:
It is located 13 kms. above Kaza (Lahaul & Spiti) serving western part of central Spiti. Situated in a secluded place in the narrow gauge of Kaza Nallah, it generally has a Lama from Tibet. Above this there is a long plateau which leads to Shilla peak.
KUNGRI GOMPA:
It is situated in the Pin valley about 10 kms. from Attargo where Spiti river has to be crossed to enter Pin valley. It is serves the population of Pin valley.
DHANKAR MONASTERY:
It is situated about 25 kms. east of Kaza and serves eastern part ofDhankar central Spiti. Dhankar is a big village and erstwhile capital of Spiti King. On top of a hill there is a fort which use to be a prison in olden times. The Monastery has about 100 Lamas and is in position of Buddhist scriptures in Bhoti language. Principal figure is a Statue of "Vairochana" (Dhayan Budha) consisting of 4 complete figures seated back to back. It has relics in the shape of paintings and sculptures.
TABO MONASTERY:
This is another large gompa serving the population of eastern side. It has its origin in the tenth century old and is located 50 kms. from Kaza (Lahaul & Spiti). In fame it is next to Tholing Gompa in Tibet. It has about 60 Lamas and houses a large collection of Scriptures, wall paintings etc. Murals of this gompa have similarity to that of the Ajanta paintings.

NAKO:
The legendary footprints of the Guru Padamsambhava are enshrined at the Lotsabaage Monastery at Nako. This high altitude village in Kinnaur is located near a limpid lake.

TASHIGANG GOMPA:
Can be visited by taking diversion from Khab to Namgya and then trekking to the Gompa.
TILASANGH MONASTERY:
1 km. trek from Ka, it is 12 km. short of Yangthang.
References:
1) Wikipedia
2) Official Site of Himachal Pradesh
Tips on Visiting Himachal
Guidelines for Foreigners
All Foreign tourists visiting the State should seek help of authorised travel agencies only.
Foreigners wishing to stay overnight must stay only at authorised guest houses / hotels. They are required by Law to fillup form-C and it is the duty of the host to such foreigners to supply this information within 24 hours to the concerned Police Station.
In case you are interested in trekking please move in groups of atleast 5 persons and inform the nearest Police Station of your proposed trekking route. Engage only registered porters/guides while undertaking treks. It is advisable to go for trekking on routes identified for this purpose by the HP Tourism Department and halt at the designated camping places only.
Please exchange foreign currency only at authorised places.
It is safer to carry travellers cheques and limited amount of cash while touring.
All tourist are advised to stay away from drugs and drug dealers and refrain from indulging in any illegal activity.
Foreigners who wish to overstay, should contact the nearest Foreigners' Regional Registration Office or the Sadar Police Station in the towns.
Some areas in Himachal Pradesh have been designated as protected areas and are not open to foreigners without permits.
Getting there and where to stay

For a Directory of Hotels, Rest Houses, Restaurants and Travel Agencies in Hiamchal Pradesh, please visit:
http://himachaltourism.gov.in/hotdir/hotkhoj.asp
---
Places of Interest