Buddhism in Korea
Places of Interest
Busan (Pusan)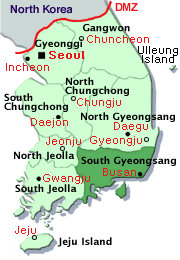 Busan (Pusan) is Korea's second largest city with close to 4 million people. It also serves as the country's main port for international cargo, as well as passenger ferries to Japan and Jeju Island.

The city is famous for its seafood and beaches, as well as the Hallyosudo Waterway with its picturesque islands. Located along the south harbor, Jagalchi Fish Market is the largest and most frequented fish market in Korea. It formed during the Korean War, when refugees flocked to Busan and women vendors huddled up, selling fish from the street stalls.

Although primarily known as a port, the city has many steep hills, creating a very unusual mix of mountains and ocean. The area remained relatively untounched during the Korean War, but the flood of refugees drastically shaped the city.

Busan Museum of Korea

One of the best places to get to know Busan is the Busan Museum of Korea. Opened in 1978, it has for the past 27 years, put in sustained efforts to discharge role of preserving and developing traditional culture based on Korean roots.

In 2002, the museum rebuilt and modernized to satisfy local citizen's desire to have a traditional culture base to store collections which have secured by excavation, purchasing, donation, etc.

Visitors can get more information about the museum at:
http://museum.busan.kr/eng/introdu/menu1.html
Buddhism in Busan

There are three major temples located in Busan city. There are:

1) Beomeo-Sa
2) Hongbeop-Sa
3) SamGwang-Sa

Getting there:

Transportation
Boat: From Busan Port (Chungand-dong, Chung-gu), you can catch a ferry to a number of domestic destinations (Cheju-do, Ulsan, Yeosu, and Inch'eon). Taking a boat to Yeosu through the Hallyeohaesang National Park, you can view the spectacular scenery along Korea's south coast. You can also get international passage to Japan and China.

Bus: The Express Bus Terminal (Onch'on-dong, Tongnae-gu) has express buses to most major destination in Korea. For less popular destinations, you will need to use one of the 2 inter-city bus terminals: Dongbu (east- Myeongryun-dong, Tongnae-gu) and Seobu (west- Kwaebeob-dong, Sasang-gu).

Plane: Kimhae International Airport, located across the Nakdong River from Busan, has domestic flights to Seoul, Cheju-do, and Gwangju. It also has a few international flights to Japan.

Subway: Busan's line 1 and line 2 connect most of the major attractions in the city. As they are both relatively new, they are much cleaner than Seoul's.

Train: Busan Station, located near the main port, is the terminus for the Kyeongbu Line (going north to Seoul) and Kyeongjeon Line
(going west along the south coast to Mokp'o).

Lodging: Busan (Pusan) City has 18 lodging facilities listed with Life in Korea. See the full list for this area.
Source: Life in Korea: Busan
---
Places of Interest